Hello lovely peeps,
Arrrgh my post didn't publish yesterday for some reason, maybe I didn't schedule it as I thought, my head isn't with it at the moment, then again is it ever lol.
My poor blog has been very neglected the past couple of weeks, but don't worry I've had Ali on my case nagging me about it (sorry Mrs I x) lol. Life has been turned completely upside down & has left me feeling emotionally battered & drained, I went from having to be the strong muma for Gareth, Jodie & their friends to needing some space for me to sort myself out. Life's sad times can never be cured overnight but I always know that I will bounce back stronger than before because I always do, no matter what life throws at me :)
I have some news now that my lovely teamies & I have all moved!
We've waved a fond farewell to our old challenge blog & have a new blog to play on with our new name which is "Simon Says Stamp Wednesday Challenge.:)
Please don't forget to change the links on your blog blinkies & we'd love it if you'd follow us there.
Today is the start of our new challenge at
& this week our challenge is
BY THE SEA
My lovely teamies & I are featuring
Fancy Pants
products on our cards this week, if you have them we'd love to see them but as always it's not compulsory to enter our challenge.
I have decided to use a little Edwin for a change and I have masked him with Magnolia's Paradise Palm stamp which was a Christmas release & is from the 2012 Nativity Collection.
The copic colours I've used are -
skin - E11, E00, E000, R12, hair - E25, E31, E50, clothes - C5, C3, C1, C00 / B99, B95, B91 telescope - N5, N3, N1, N0, trees - E37, E35, E31, E30 / YG99, YG95, YG93, YG91
I made the small charm by stamping the cute whale from Simon's exclusive Come Sail Away stamp set in blue ink onto shrink plastic & outlining it in a copic multiliner pen. I then cut the whale out, punched a hole in it & finished it off by colouring over the whale with a nice sparkly copic spica pen & blasting it with a heat tool to shrink it.
Don't forget to visit the new
SIMON SAYS STAMP STORE BLOG
for lots of fabulous inspiration, candy, and lots of lovely new or featured products.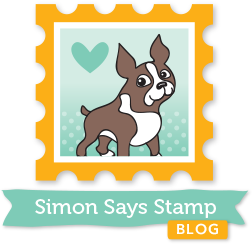 The inside of my card has been decorated with the same papers, twine & die cut & I have stamped a cute octopus from the same Come Sail Away stamp set.
I'm entering my card in the following challenges -
Make It Monday
- anything goes
That's me done for today lovely peeps, our little Ollie & Casey have arrived to splash & cool off in the pool so it's playtime :)
Thanks for stopping by