Hello lovely peeps,
It's been a strange few weeks here and life is very slowly returning to "normal" if ever life can be normal lol.
We all had a night out together on Saturday and went to see Gareth's & Rob's (my nephew) band playing at a local music festival & I may be a little biased but they were brilliant, the crowd loved them & they are the only band to ever be cheered and shouted for an encore and the festival has been held for many years so I was one very proud muma / auntie, & naturally I had to celebrate with rather a lot of Bacardi & lemonade lol.
Gareth Rob Charley
It's a case of taking one day at a time for us all at the moment and it was so lovely to all go out together and meet up with lots of friends and enjoy ourselves. I think it did us all good & lifted everyone's mood, family, friends, great music, oh and Bacardi of course what more does a girl need :)
Today is the start of our new challenge at
& this week our challenge is
SUMMER F
OOD & /OR DRINK
we have an inspirational picture for you
My lovely teamies & I are featuring
HERO ARTS
products on our cards this week, if you have them we'd love to see them but as always it's not compulsory to enter our challenge.
I've inked up one of my many neglected Whiff Of Joy stamps for today's card and I confess I did forget about showcasing Hero Arts products on my card although it did already have Hero Arts pearls on it I inked up a cute Hero Arts strawberry stamp & added a row of strawberries too :)
The flowers are all plain white Prima flowers and I used a pale green copic G40 to add some colour to the center of the flowers and layered them before adding a pearl as a finishing touch
The copic colours I've used are -
skin - E11, E00, E000, R12, hair - E44, E43, E41, dress - E53, E51, E50 / C3, C1, C00 / G43, YG13, YG11 / YG95, YG93, YG91, basket - E44, E43, E41, grass - YG13, YG93, YG91, YG63, G43, strawberries - R89, R59, R39
Don't forget to visit the new
SIMON SAYS STAMP STORE BLOG
for lots of fabulous inspiration, candy, and lots of lovely new or featured products.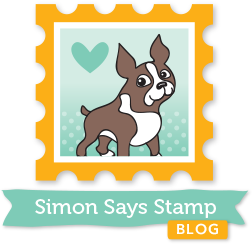 I'm entering my card in the following challenges -
Make It Monday
- anything goes,
Crafts & Me
- anything goes,
Crafty Creations
- Summer,
Divas By Design
- anything goes,
The Paper Shelter
- anything goes,
Ruby's Rainbow
- layer it up,
I've just remembered I have other cards I haven't yet blogged so hopefully I will be able to get back into the swing of blogging more often again :)
That's me done for today lovely peeps
Thanks for stopping by