Hello lovely peeps,
It is one month ago today that my happy little world lost it's sparkle and my mojo packed it's bags and went with it. Every now and again I am getting a little surge of inspiration back thankfully, I just need that pretty sparkle back now and all will be well again lol.
I've just realised I forgot my candy draw peeps. I'm sorry :(
I will be posting again tomorrow so I promise I'll have it drawn and announced in tomorrow's post. I have even started to write myself a list of all the things I need to catch up on and card orders I need to fill, and oh my word I'm sure I have record breaking humongous dandelions in my front garden that I need to kill, goodness knows what the neighbours think lol.

Today is new challenge day at
& this fortnight our challenge is
WEDDING
This card was created for one of my work mates Dean, & I made it to give to him & Cherry from all the staff team for their recent wedding.
The copic colours I've used are -
Tilda - skin - E11, E00, E000, R12, hair - E27, E31, E50, dress - C3, C1, C00, bouquet - E21, E40, E0000
Edwin - skin - E11, E00, E000, E93, hair - E44, E43, E41, clothes - N9, N7, N5, N3 / C3, C1, C0
On the inside of my card I have also used Magnolia stamps, the pile of hearts stamp is a very old stamp that I have had for goodness knows how long but never got around to using like so many that I've "needed" lol.
***********
I also have another card today as I am late joining my lovely teamies at Simon Says Stamp due to my loss of mojo. I spent many hours sat in my craft room just looking around, sighing, looking at stamps, papers, pretties, & still nothing was happening in my head or on my desk, I even went off chocolate, now that is serious lol.
Eventually I decided to switch styles completely and even changed the shape of my card from my usual square cards to see what happened!
for
& this week our challenge is
TRIANGLES
My lovely teamies are featuring
The Crafters Workshop
products on their cards this week and as I never got around to using my last DT spend to buy some of their fabby products I am using some more of the lovely
SIMON SAYS STAMP EXCLUSIVE
products instead :)
To create the triangle background I die cut Simon's Full Card Triangles to use as a mask and then sponged various distress inks over the mask, & then peeled the mask off.
The copic colours I've used are-
Simon - E39, E37, E35 / C3, C1, C00, top & hat - B23, B21, B0000 / B99, B95, B91
Don't forget to visit the new
SIMON SAYS STAMP STORE BLOG
for lots of fabulous inspiration, candy, and lots of lovely new or featured products.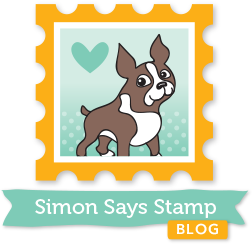 I'm so pleased I used little Simon's clothes to dress him as he made Jodie laugh, she loved him :)
That's it for me today peeps, hubby is desperately trying to talk me into riding on his Harley with him today as a few hundred of us are all heading to Cheddar Gorge in the Mendip Hills this afternoon to celebrate Jamie's life and Jamie's dad John really wants Jodie to ride on his bike with him. Will I be brave enough to ride??? I doubt it lol.
Thanks for stopping by