Good afternoon lovely peeps,
I say to people who have babies to take loads of photo's of your children right through their lives as a memory of how they looked at different ages because I know I for one would not be able to imagine what my children looked like at every stage as children change so much. Hubs & I spent two days sorting through photo after photo, album after album trying to shortlist pictures for Jodie's scrapbook & I had absolutely no idea we had taken quite so many photo's, but we are so pleased we did as it is so true we would not have remember everything without the memories photo's hold.
The down side of having all those photo's is how the heck do we whittle them down lol.
The scrapbook is thankfully coming along nicely & after Jodie's 21st birthday I will be able to share them with you as I am going to wait so Jode doesn't see them before her special day on my bloglovin feed on facebook :)
for
& this week our challenge is
ANIMAL ANTICS
My lovely teamies & I are featuring
some
Lawn Fawn or The Crafts Meow
products on our creations this week. If you have any we'd love to see them but as always it's not compulsory to enter our challenge.
For today's card I have used my favourite Lawn Fawn stamp & stamped & coloured it twice to make it look like the cutes bunnies are racing. The lovely curvy hills in the background have been created using one of Simon's lovely new
STAMPtember®
release dies.
I wanted some tiny trees on the horizon & I didn't have a Christmas tree punch or die small enough & then had a bright idea of using the cut outs from Simon's full card triangles and they are just perfect, there occasionally my brain does work lol :)
The copic colours I've used are -
skin - E11, E00, E000, R12, hair - E44, E43, E41, clothes - YG67, YG63, YG61 / C3, C1, C0, bunnies - N5, N3, N1, N0, scarves - G43, G41, G20, sledges - W4, W2, W0
Don't forget to visit the new
SIMON SAYS STAMP STORE BLOG
for lots of fabulous inspiration, candy, and lots of lovely new or featured products.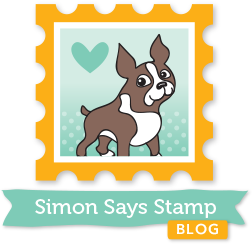 I'm entering my card in the following challenges -
Make It Monday
- anything goes
That's me finished for today lovely peeps, scrapbook pages are calling me :)
I don't have enough room to make my scrapbook pages in my tiny craft room & as it's directly off the kitchen I'm kind of trashing the kitchen as well as my craft room in the "creative process" lol. I need to attempt to try and keep everything on the kitchen table today as hubby has a day off and I want him to cook dinner so I need to make sure the worktops are clear for him, thoughtful aren't I lol.